EUROPEAN BUYERS
Using the first four digits of your product's customs code (Harmonised System), ECIB can provide you references of European buyers
Characteristics :
- The files are of professional quality, top level and up-to-date .
The classification is based on the four-digit product number combined nomenclature (customs).
- The contact persons mentioned in the files are all carefully selected
We verify and select the persons to whom the lists are sent. The basic election criteria are:
- The person has complete control over the product. .The person has a wide experience in international trade.
- The activity relating to the product is the principal activity of the person or his company.
Each file contains:
- The name of the company; product it is dealing in (four-digit code); name of the contact person; E-mail address; Fax and phone numbers; postal address.
- This selection is made in order to prevent a risk of dispersion and waste of time and money.
With ECIB
- You are already in touch with decision-makers
-The prospecting is already over
-You enter directly into the negotiation phase
While ordering, depending on the nature of file you wish to acquire, ECIB informs you the number of persons. Each file contact will be alerted to the fact that he/she can be contacted by you.
For each product in each european country, ECIB propose :

a file of buyers
for 600 Euros (20 contacts minimum)
The products are identified by the first 4 numbers in their combined nomenclature (customs).. You'll be in need of these 4 numbers to order.
Contact: Marc Wilson: ecib@ecib.com
---
SAMPLES ' EXHIBITIONS
EXPORTEUR 'Selections
The samples' trade fair-showroom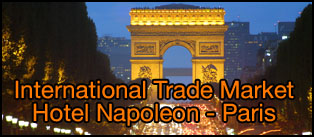 EXPORTEUR 'Selections will be the meeting place of large volumes of European buyers seeking new sources. The buyers can find during 24 hours, in the same place highly competitive offers from all over the world.
Special features of the Showroom : The trade fair-showroom of the ECIB is an exhibition hall where products from the entire world are presented. The products displayed come directly from the manufacturers/producers.. You send us samples and we exhibit them.
Programa Exporteur'Selections para 2011 (previsión):
PRODUCTS EXHIBITED
(Chapters' complementary information is in the Combined Nomenclature - customs -)
Dates Hôtel Napoléon (Paris)
12h.00 h- 12h.00 h
Chapter 1 - Live animals
Chapter 2 - Meat and edible meat offal
Chapter 3 - Fish, crustaceans & aquatic invertebrates
Chapter 4 - Dairy produce; birds eggs; honey and other edible animal products
Chapter 5 - Other products of animal origin

November
22

Chapter 6 - Live trees, plants; bulbs, roots; cut flowers & ornamental foliage
Chapter 7 - Edible vegetables & certain roots & Tubers
Chapter 8 - Edible fruit & nuts; citrus fruit or melon peel gooseberry, berries, kiwi fruit
Chapter 9 - Coffee, tea, mate & spices
Chapter 10 - Cereals
Chapter 11 - Milling products; malt; starch; inulin; wheat gluten
Chapter 12 - Oil seeds & oleaginous fruits; miscellaneous grains, seeds & fruit; industrial or medicinal plants; straw & fodder
Chapter 13 - Lac; gums, resins & other vegetable sap & extracts

April
5

Chapter 14 - Vegetable plaiting materials & other vegetable products
Chapter 15 - Animal or vegetable fats and oils and their clevage products; prepared edible fats; animal or vegetable waxes
Chapter 16 - Edible preparations of meat, fish, crustaceans, molluscs or other aquatic invertebrates

December
20

Chapter 17 - Sugars and sugar confectionary
Chapter 18 - Cocoa and cocoa preparations
Chapter 19 - Preparations of cereals, flour, starch or milk; bakers wares
Chapter 20 - Preparations of vegetables, fruit, nuts or other plant parts
Chapter 21 - Miscellaneous edible preparations
Chapter 22 - Beverages, spirits and vinegar
Chapter 23 - Food industry residues & waste; prepared animal feed

March
1

Chapter 24 - Tobacco and manufactured tobacco substitutes
Chapter 25 - Salt; sulfur; earth & stone; lime & cement plaster
Chapter 26 - Ores, slag and ash
Chapter 27 - Mineral fuels, mineral oils & products of their distillation; bitumin substances; mineral wax
Chapter 28 - Inorganic chemicals; organic or inorganic compounds of precious metals, of rare-earth metals, of radioactive elements or of isotopes
Chapter 29 - Organic chemicals
Chapter 30 - Pharmaceutical products
Chapter 31 - Fertilizers

June
20

Chapter 32 - Tanning or dyeing extracts; tannins & derivatives; dyes, pigments & coloring matter; paint & varnish; putty & other mastics; inks
Chapter 33 - Essential oils and resinoids; perfumery, cosmetic or toilet preparations
Chapter 34 - Soap; waxes; polish; candles; modelling pastes; dental preparations with basis of plaster
Chapter 35 - Albuminoidal substances; modified starch; glues;
Chapter 36 - Explosives; pyrotechnic products; matches; pyrophoric alloys; certain combustible preparations
Chapter 37 - Photographic or cinematographic goods
Chapter 38 - Miscellaneous chemical products
Chapter 39 - Plastics and articles thereof
Chapter 40 - Rubber and articles thereof.

May
3

Chapter 41 - Raw hides and skins (other than furskins) and leather
Chapter 42 - Leather articles; saddlery and harness; travel goods, handbags & similar; articles of animal gut [not silkworm gut]
Chapter 43 - Furskins and artificial fur; manufactures thereof

June
7

Chapter 44 - Wood and articles of wood; wood charcoal
Chapter 45 - Cork and articles of cork
Chapter 46 - Manufactures of straw, esparto or other plaiting materials; basketware & wickerwork
Chapter 47 - Pulp of wood or of other fibrous cellulosic material; waste & scrap of paper & paperboard
Chapter 48 - Paper & paperboard & articles thereof; paper pulp articles
Chapter 49 - Printed books, newspapers, pictures and other products of printing industry; manuscripts, typescripts and plans

May
26

Chapter 50 - Silk, including yarns and woven fabric thereof
Chapter 51 - Wool & animal hair, including yarn & woven fabric
Chapter 52 - Cotton, including yarn and woven fabric thereof
Chapter 53 - Other vegetable textile fibers; paper yarn and woven fabrics of paper yarn
Chapter 54 - Manmade filaments, including yarns & woven fabrics
Chapter 55 - Manmade staple fibres, including yarns & woven fabrics
Chapter 56 - Wadding, felt and nonwovens; special yarns; twine, cordage, ropes and cables and articles thereof
Chapter 57 - Carpets and other textile floor coverings
Chapter 58 - Special woven fabrics; tufted textile fabrics; lace; tapestries; trimmings; embroidery
Chapter 59 - Impregnated, coated, covered or laminated textile fabrics; textile articles for industrial use
Chapter 60 - Knitted or crocheted fabrics

March
22

Chapter 61 - Apparel articles and accessories, knitted or crocheted
Chapter 62 - Apparel articles and accessories, not knitted or crocheted
Chapter 63 - Other textile articles; needlecraft sets; worn clothing and worn textile articles; rags
Chapter 64 - Footwear, gaiters and the like and parts thereof

Februry
21

Chapter 65 - Headgear and parts thereof
Chapter 66 - Umbrellas, walking-sticks, seat-sticks, riding-crops, whips, and parts thereof
Chapter 67 - Prepared feathers, down and articles thereof; artificial flowers; articles of human hair

August
29

Chapter 68 - Articles of stone, plaster, cement, asbestos, mica or similar materials
Chapter 69 - Ceramic products
Chapter 70 - Glass and glassware
Chapter 71 - Natural or cultured pearls, precious or semiprecious stones, precious metals and metals clad therewith and articles thereof; imitation jewelry; coin

September
6

Chapter 72 - Iron and steel
Chapter 73 - Articles of iron or steel
Chapter 74 - Copper and articles thereof
Chapter 75 - Nickel and articles thereof
Chapter 76 - Aluminum and articles thereof
Chapter 78 - Lead and articles thereof
Chapter 79 - Zinc and articles thereof
Chapter 80 - Tin and articles thereof
Chapter 81 - Other base metals; cermets; articles thereof

October
4

Chapter 82 - Tools, implements, cutlery, spoons & forks of base metal & parts thereof
Chapter 83 - Miscellaneous articles of base metal
Chapter 84 - Nuclear reactors, boilers, machinery and mechanical appliances; parts thereof
Chapter 85 - Electric machinery, equipment and parts; sound equipment; television equipment
Chapter 86 - Railway or tramway. Locomotives, rolling stock, track fixtures and parts thereof; mechanical & electro-mechanical traffic signal equipment
Chapter 87 - Vehicles, (not railway, tramway, rolling stock); parts and accessories
Chapter 88 - Aircraft, spacecraft, and parts thereof
Chapter 89 - Ships, boats and floating stuctures
Chapter 90 - Optical, photographic, cinematographic, measuring, checking, precision, medical or surgical instruments/apparatus; parts & accessories
Chapter 91 - Clocks and watches and parts thereof
Chapter 92 - Musical instruments; parts and accessories thereof

November
8

Chapter 93 - Arms and ammunition; parts and accessories thereof
Chapter 94 - Furniture; bedding, mattresses, cushions etc; other lamps & light fitting, illuminated signs and nameplates, prefabricated buildings
Chapter 95 - Toys, games & sports equipment; parts & accessories
Chapter 96 - Miscellaneous manufactured articles
Chapter 97 - Works of art, collectors' pieces and antiques

December
6
The visitors-buyers (with invitation) :
The buyers (for the products in mass consumption) are from the following categories :
- Buying centers and distribution firms
- Department Stores
- Popular stores
- Hypermarkets
- Supermarkets
- Specialised Department Stores
- Mail Order companies
- Trading companies, Counter trading companies and Import firms.
The buyers (for the industrial products) are from the following categories :
- Industrialist
- Trading companies
- Counter trading companies
- Industrial Import firms.
Display locations
The E.C.I.B. offers 3 types of location depending on the budget and the products volume displayed : the location on the shelf, the module or in 15 m2 area.
- Shelf location :
(presentation of cataloges)

Catalogues and price lists are exhibited on shelves and can be viewed by buyers. The cataloges may be brochures introducing the company or presenting the products. Photographs can be included with the cataloge.
The shelf is 170 cm high. It has four 60 cm wide racks and 40 cm deep.
- Module location :
(Samples displayed)

The products (samples, price lists, brochures, photos, technical documentation etc.) are displayed on modules. Each module measures 80 cm length, 50 cm depth and 80 cm height (0.32 m3 per module).
- Area of 15 m2 :

The 15 m2 Area is made up of :
- 9 modules,
- 2 shelves with four racks each,
- 1 table,
- 4 chairs.


The area measures 5 m long and 3 m wide (refer to drawing).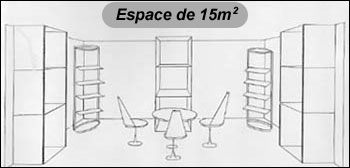 LOCATION COST
TYPE OF LOCATION
PRICE OF THE LOCATION
Shelf location
200 euros
Module location
2 200 Euros
Espace - Stand
10 000 Euros

SENDING OF SAMPLE :

Sending of samples : There are no duties or taxes applicable on samples when they pass through customs on their arrival in France. Customs must be able to recognize that the products sent are genuine samples (a single unit of the product, sample slightly damaged etc.) When sending them, it must be mentioned that they are not meant for sales and that they will be exhibited in the Exporteur's selections trade fair. The list of samples along with their values is also to be enclosed. The exhibitor is required to bear the cost of sending the samples, right up to their delivery at the ECIB offices. ECIB will not pay out any of the costs involved in sending of the samples. For a position on a shelf, send cataloges and price lists 3 days before the beginning of the exhibition. For a position in a module, send samples with price lists, product literature, photographs, visiting cards, etc. 3 days before the beginning of the exhibition, As for the samples, they must be recovered by their proprietors at the end of the exhibition. Otherwise they will be disposed off by the E.C.I.B.
Your registration is definitely OK if we receive your payment 15 days before the beginning of the Trade Fair chosen.
Contact : Marc Wilson ecib@ecib.com
---
AGENTS
Export to European Union With commercial agents selected by ECIB
Step 1:
- You have to pick the product(s) and communicate to us its first 4 numbers in the Harmonized System (customs). You also have to pick which European Union countries you want to sell to (France, England, Belgium, Netherlands, Spain, Portugal, Greece, Italy, Ireland, Austria, Denmark, Finland, Luxembourg, Sweeden, and Germany) and communicate to us your choice(s).
- You have to pay a 200 Euros registration fee per country choosen.
Step 2:
- We will provide you with resumés of agents which fit your above choices (without their identification).
Step 3:
- You chose which agent´s(s´) resumé that you prefer, and send us 700 Euros per chosen resumé.
Step 4:
- We will provide you with the identification of the chosen agent.
Step 5:
- You then negotiate directly with the agent(s).
Contact: Marc Wilson: ecib@ecib.com
---
PARTNERS
The ECIB selects for you suitable partners in European Union for a co-operation, joint venture, offsets, buy-back
The ECIB can introduce you to a partner screened and selected by its experts.
Send us yours needs, we' ll answer you.
Contact: Marc Wilson: ecib@ecib.com
---
NEW PRODUCTS
Inventors, you want to patent a product and profit from it

- A professional Expert team can help you to technically prepare your patent to be protected on a legal international level (EU..)
Contact : Georges Bauer : ecib@ecib.com  
- You are looking for investors, distributors to sell your new product
Contact Marc Wilson : ecib@ecib.com 


---
Speak EUROPEAN to sell to Europeans
The ECIB translates your documents, commercial and technical, for the European Union countries to which you are exporting.
To help you sell in European Union countries, the ECIB adapts your sales literature to suit the culture of European countries (languages, traditions,customs, contradictions...)
Your product is just manufactured.
- It satisfies a real need and its intrinsic qualities are truly remarkable.
- One can expect that it will rapidly find its place in the international market,especially in Europe.
This last, vital phase depends on your satisfying two conditions:
- The product must be known to one and all, this depends on advertising.
- The product must be liked universally, this is where our experts get into action
The ECIB assists at two major levels:
1- By the creation of sales literature presenting the product.
- The information provided in this literature is of a practical nature, adapted to suit the language and the culture of the country, for a quick and effortless understanding of the main features of the product and the advantages it offers.
- The object of this literature is to convince the potential buyer of the necessity to buy the product.
2- After the purchase, enabling him to use the product without difficulty, by means of a User's Manual, also well adapted to the customer's needs.
- The object is that the customer should never regret having bought the product.
- With our assistance, you can strengthen customer loyalty and increase sales by "word of mouth" publicity.
- The buyers of the product can tell their friends, "It is a good product, I understood at once how to use it, it is very easy."
In order to succeed in its task, the ECIB uses associates
- who are totally aware of the country and environment where the product(s) originate(s)
- who have an excellent knowledge of the language and environment where the product are to be sold (European Union countries)
- who have a thorough knowledge of the product and its usage.
In order to prepare an estimate for your consideration, you should send us the following :
- An example of the product you wish to export to the European Union
- Sales literature, user's manuals and other materials in your language
- List of target countries in the European Union.
Contact Georges BAUER: ecib@ecib.com  
---
CONFERENCES in your COUNTRY
The ECIB takes pleasure in proposing its conferences: "How to export to European Union?", adapted to your business and to the products you wish to export to Europe. Also ECIB proposes economic conferences.
Within the framework of a best cooperation between buyers from the European Union and manufacturers and producers outside Europe, the ECIB offers to come to YOUR COUNTRY or YOUR REGION and conduct a conference on the following theme:
                        " How to export to Europe ? ?" 
Based on your needs, the conference will have for subject the PRODUCTS you wish to export to Europe and will deal with themes such as:
- Access to distribution in one or more specific countries belonging to the European Union
- Cultural patterns in each country (psychological profile of buyers)
- Standards
- Quality
- Packaging
- Labelling
- Qualification
- Logistics
- How to find the right agent ?
- Which are the countries or regions suitable for setting up a local office?
We are at your disposal to inform you of the modalities of our conference which will be adapted to.
Here are possible topics for the lecture on :
"How can food stuffs be exported to the European Union's countries?"
Introduction : Europe, peculiarities and resemblances
- Populations and markets : substantial differences but evolution's trends which come closer towards an alignment of consumption's modes
- Commercial capacities : Four forms of identical distribution, but different market shares commensurate with countries.
- Conditions of the accesses to the markets, towards an uniformisation ;
First part : to export passing by the four networks of alimentary distribution
- Overall definition and market share in Europe.
- Respective weight in each country = market share and national peculiarities .
- Overall commercial approach.
1.1. Purchasing groups
1.2. The large and medium-size surface store ( hypermarkets and supermarkets ).
1.3. Convenient commerce (detail, discount, delicatessen ).
1.4. The wholesalers.
-- Approach of French market particularly.
Second part : the terms of access to the European markets.
2.1. Transport and logistics .
2.2. Packing standards ;
2.3. The certification of quality.
Third part : the niches of the European markets: an opportunity for your country.
We propose to you a program adapted to your specific products.
Contact: Georges BAUER : ecib@ecib.com 
---
EXPERT MISSIONS
The experience and the skills are at your door. Our experts will travel to your Company, to bring you their support for the development of your business to trade better in European Union.
A problem to be solved quickly? 
- An ECIB Expert = time saving + avoiding pitfalls
- An ECIB Expert = assured development
- An ECIB Expert = more profits
Follow these steps:
1-Define your objective, the place and the duration of the assignment you wish to entrust to ECIB.
2-On reception of your request, ECIB will send you a commercial proposal.
Contact Monsieur Georges BAUER: ecib@ecib.com
Here's how an expert can help you....
The expert provides his support in the form of advice which allows the creation of new activities or the development of existing projects.
- Are you complying with European standards regarding your exports? An expert can take care of the analysis and revision of your documents, saving time and avoiding costly pitfalls.
- You need advice on protection of your intellectual and industrial property rights? An expert will prevent your products being counterfeited.
- Do you wish to create a business in a French region? An expert will prepare a study for you outlining the potential advantages that each site offers for your future business.
- Your company is successful. You wish to expand but heavy day to day work leaves you no time for planning the right strategy. An expert will provide you with a quick and accurate diagnosis of your company and propose plans for its further growth.
- Do you wish to create your own company? An expert will give you the right advice and help you with the formalities.
- Do you wish to launch a new communication policy? An expert will help you set the right tone.
- A company needs technical assistance, organization, management, production, quality control, automated inventory control... An expert will be readily available for contributing his experience in improving the performance of your company.
- Do you need legal and business assistance for negotiating a contract abroad? An expert with a sound knowledge of the country will obtain the maximum leverage.
If you are looking for a joint-venture... An expert will find you the best partner.
These are only a few examples to show you how the use of an expert can help you become even more successful.
An expert is a genuine partner for:
- Administration and local bodies
- Professional, public or private organizations.
- Industrial, commercial and service companies of all sizes
- He has an answer to all your needs
A rich experience in various sectors of activity.
- Agriculture, food, wood.
- Automotive, Aeronautic, Transport.
- Public-works, Environment.
- Architecture, Housing, City Planning, Building materials.
- Electricity, Electrical equipment.
- Mechanical ,Civil, Electrical, Engineering.
- Material Handling, Metal-working.
- Banking, Insurance.
- Commerce, Tourism, Hotels, Distribution.
- Metallurgy.
- Chemicals, Plastics, Rubber, Paper.
- Glass, Air-conditioning.
- Quarries, Mines, Petroleum.
- Textile, Garments.
- Telecommunications, Electronics, Computers
- Health, Others.
And skills for different departments of the company
- General Management.
- Human Resources Management.
- Management.
- Finance, Accounts.
- Production
- Research & Development.
- Marketing.
- Communication.
Contact: ecib@ecib.com 
---
TO PROMOTE YOUR WEB SITE
Make your web site known to European Trade Promotion Organizations 
- The distinguishing feature of our Chamber is that it works almost entirely via the Internet
- 95% of our contacts, advisory services, training, information... are all provided with the help of the Internet.
- Right from its creation, the Chamber has developed around the Internet.
- The Internet medium has become our primary language, and the keyboard has become our tongue.
That is why we are well equipped to provide you an efficacious promotion all over the world for your web site.
The steps involved :
1- Send us an E-mail message introducing us to your web site.
2- We will visit your site to try to improve your message.
3- We will send the message by E-mail to the respective Trade Promotion Organisations in the world
-for about 5000 contacts among the most dynamic Trade Promotion Organizations in the world, the cost is 1000 Euros to be paid in advance
-for about 1000 contacts among the most dynamic Trade Promotion Organizations in European Union, the cost is 350 Euros to be paid in advance
Contact : Marc Wilson: ecib@ecib.com
---
YOUR OFFICE in EUROPEAN UNION
Your Office in European Union
The ECIB ensures for your ORGANIZATION (Company, Chamber of Commerce, Trade association, Export promotion body...)
- a permanent and direct presence in the heart
- of the European Union.
An European telling other Europeans about your products.
- Our role is to create a link between you and potential European buyers.
- To help us prepare your estimate, please send us complete information about your company, mentioning the points which you wish us to emphasise during our discussions with buyers or contacts.
Contact: Marc Wilson: ecib@ecib.com
---
STATISTICS
import export statistics for the European Union' countries
Monthly fixed price
ECIB offers a 950 Euros monthly fee to cover costs for brief surveys on import export statistics,
- For each Union European country, and
- For goods (value and quantity)
We provide quick answers for inquiries, that do not require in depth studies.
Example :
For France you are searching import export statistics for the products 6109 (Tshirt), 6105, 6111.
We can give you:
- Quantities imported by France in 2000
- Value of the importation
- Quantities exported by France in 2000
- The 10 countries France exported to the most for 6109, 6105, 6111(quantity, value)
- The 10 countries France imported from 6109, 6105, 6111 (quantity, value).
ECIB propose for one product: its annual importation (quantity) + average importation market prices (value)

per country of the European Union Cost: 200 Euros

per the 15 countries of the European Union Cost: 1200 Euros
The products are identified by their first 4 numbers in the combined nomenclature (customs).. You'll be in need of these 4 numbers to order.
Contact John MASCARA ecib@ecib.com 
---
MARKET REPORTS
Market reports per products consumed in the European Union' countries
MARKET REPORTS
- Our experts can provide you with a market survey for a given product any country in the EU.
- The products are identified by their first 4 numbers in the combined nomenclature (customs)
- Cost will depend on the type of data required, estimates without obligation.
Contact John MASCARA ecib@ecib.com
---
Your Buyer's CREDIBILITY
Can your buyer afford to pay you ?
The ECIB is at your service for any "CREDIBILITY STUDY" on a company of your choice within the European Union (future buyer, potential trading partner.....)
Mention your request to ecib@ecib.com(John Mascara)- we will send you a quote.
---
PLUS
Requests for specific information, specific surveys, difficult issues, lobbying, compromise between parties.
Contact Monsieur Al Pitt: ecib@ecib.com
E.C.I.B. European Chamber of International Business
http://www.ecib.com
e-mail : ecib@ecib.com